IBM i (AS/400, iSeries) solutions
Integrate your IBM i System with modern, easy-to-use solutions
Do you need to modernise your green data in IBM i System and combine it with data from other systems?
We can display your ERP data from System i in a browser and combine them with images, videos etc. Even without buying expensive tools. Our RPG programmers have a combined 60 years of experience with IBM i System and can web-enable your data with the technologies already in System i.
Integrate your IBM i System with modern, easy-to-use solutions
Get better access to your data from the IBM i System on your smartphone, tablet and PC. By using our System i consultants and System i programmers, you avoid investing in new, large IT systems. Instead, our System i programmers develop in your current AS/400 platform, so you get easy access to your data and can combine with other systems. You keep your stable IBM i System solution and have it integrated with modern, user-friendly systems.
IBM i (AS/400, iSeries) solutions
Integration of data for mobile solutions
When we make your data available on mobile devices, you can increase employee mobility and have greater exibility. Our System i specialists have many years of experience in integrating data from System i into web- based solutions on smartphones, tablets, PCs and screens.
RPG Consultants
is a link between IBM i, LEAN and the production flow
Our RPG consultants analyse your IBM i solution, your production flow and LEAN wishes. The premise for the work is that we nd the level that suits your needs here and now and create a foundation that we can build on along the way.
We are skilled in our craft and at the same time understand how the business and the ERP system's processes and flows work. We know the work fows and business processes in a manufacturing company. Therefore, we can contribute much more than IT knowledge and develop the solution you need.
Further development of System i solutions
Our RPG developers and consultants further develop systems for production management, order management, inventory management and invoicing based on System i. This also applies to the smaller, independent systems you might have. All RPG developers have worked extensively with the various web development tools that interface with System i.
The RPG programmers develop peripheral systems and add-ons for your existing System i-based ERP system and show data based on this, or we program directly in the ERP system. We perform analysis, design, development and modi cation of System i programs, primarily written in RPG.
REEFTsystem-i are top professional RPG consultants. We have used them to make our data available on tablets and big screens.
We are specialists in
RPG, RPG-free and RPG-ILE
Our RPG developers know the structure of an IBM i database and the IBM i operating system like the back of their hand and we are highly skilled in handling data from e.g. the IFS, MQ-Series, HTTP or other sources.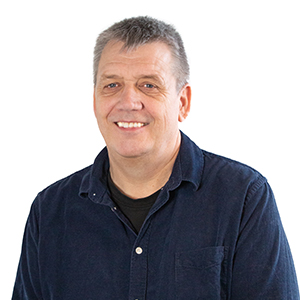 Jan Jørgensen
Udviklingschef og partner
REEFT
Are you interested in hearing more about IBM Programming or have questions?
Then contact our development manager Jan Jørgensen at jkj@reeft.dk or tel. +45 24 47 73 93.